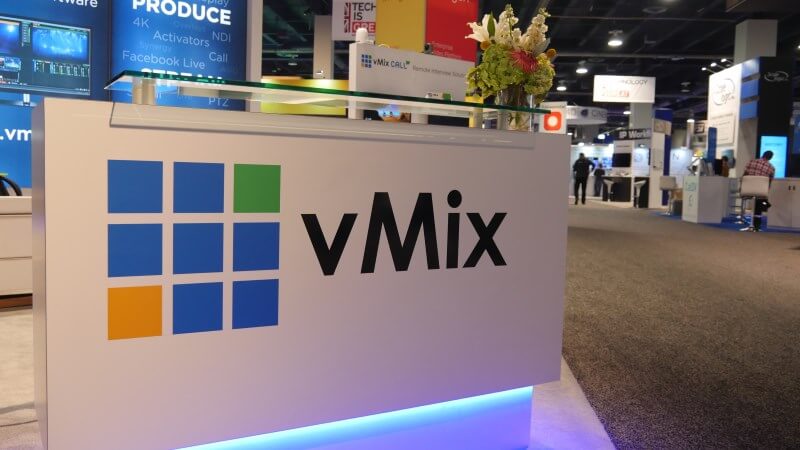 The National Association of Broadcasters convention 2017 is over for another year and it was a successful one for vMix. Over 100,000 people attended this year with most of those wearing their trusty vMix NAB lanyard! This year we had a new booth designed that would highlight each of the main features of vMix. We didn't include a live stage this year as we counted 12 live shows taking place from the show floor in 2017, some of which were powered by vMix. The 6 areas featured vMix Call, Instant Replay, 4K, IP Production, Portable solutions and vMix control. It gave everyone that visited the booth a glimpse at all of the different capabilities and scenarios that vMix could be used in.

All of the partners!
As we're over from Australia we get to Las Vegas early to acclimatize and to prepare for the show. You never know when you might need something extra or need to make some changes. We were all ready to go by Sunday and then we finished off the booth by receiving all of our partner's gear to display at the show (most of them arrive a lot later than us!). This year we had X-Keys, JL Cooper and Skaarhoj controllers for people to use and try within a vMix workflow. We also had a Magewell 4K card in our 4K workstation. Our portable solutions section featured the AJA U-TAP, iO4K and the RovoCam.

It was great to be able to feature many different NAB partners and be able to create a great network at the show. People would drop by and say that they had been sent to us from AJA, PTZ Optics etc. In turn we would send through people to partner booths if they further questions about the products featured in our booth. The PTZ Optics team were using vMix in their booth for their live streams and we also had a camera of theirs hooked up to our X-Box One remote to show off their PTZ Control integration. At one point they connected to our booth via vMix Call and participated in a live stream by Tom Sinclair.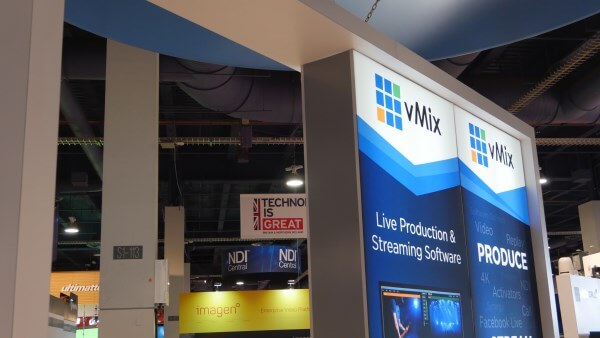 vMix all over the world.
NAB is a great opportunity for vMix to talk to users from all over the world. We spoke to people from just down the road in Los Angeles, India, Japan, Europe, Africa and every country you could think of! It's interesting to see just how people use vMix in all kinds of locations and situations. People from big sporting events, colleges, Churches, Youtubers, Twitch Streamers, you name it…they came by to chat to us how they were using vMix.

Location, lanyards and live streams.
vMix had a great position at NAB show 2017 which allowed for some great foot traffic! We were right next door to NewTek and the NDI™ Connect booth which meant we had a lot of people talking about NDI and how they could use vMix in their IP workflow. The opportunity to become an official sponsor and be added to the NAB lanyard was a huge plus. We would be out at the grocery store or walking down the Las Vegas strip and see people wearing the vMix logo! I kept having to tell myself that I didn't know the person wearing the lanyard as I'm so used to only seeing it on vMix people. If you watch any NAB 2017 interview or see any photos, you'll be able to see the vMix logo in it! We were also able to go on the NDI Central live stream to briefly talk about how vMix supports NDI. It was a whirlwind show but it was good to be able to talk about how much we like NDI.

Award winning!
vMix 19 was featured by Streaming Media Magazine in their Best of NAB 2017 Awards! It was a great honour and we're happy to see vMix Call be recognised in the industry.

vMix in use around NAB
For the 4th straight year Teradek used vMix to produce their live show which reaches 100,000's of viewers during the week. In our booth we even had an NDI link up to the Teradek booth and had the show being displayed on our IP Production workstation. Once again vMix provided a rock-solid production for the entire week. Here's Martin on the last show of the week-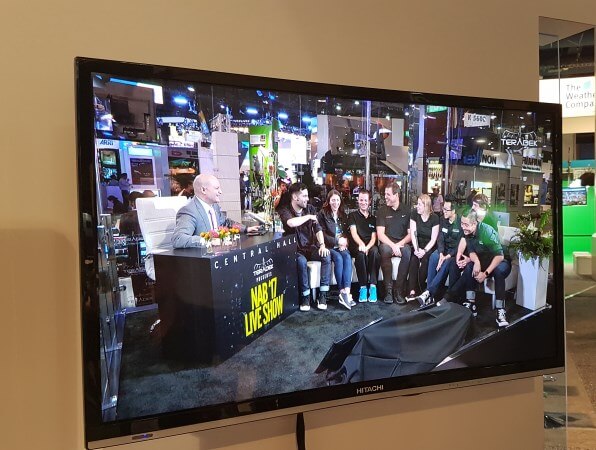 X-Keys created an AMAZING live demo of vMix using their 124 T-Bar controller! They had a live TV news studio featuring Dan our mascot as the weather man. It surely was a sight to be seen! You can check out their videos on their Facebook page.

vMix was also featured by AJA, PTZ Optics, Skaarhoj, P.I Engineering, Bird-Dog and a few others that swore me to secrecy! vMix could also be seen in the 360 pavillion where they used it do projection mapping for the Insta360 cam on the inside of a circular tent! It was pretty cool.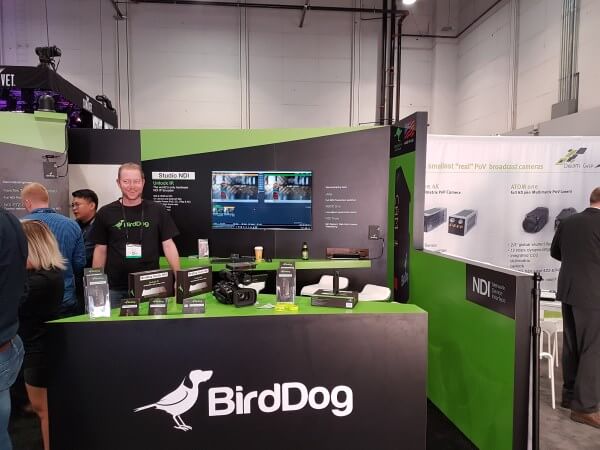 Next Year
We'll be back again next year, so if you want to come to NAB in 2018 I would definitely start planning now. It's a great week to be able to connect with ALL of the companies that do cameras, capture cards, CDNs, NDI gear, and a whole lot more. You can actually ask the creators of products direct questions and hopefully get a direct answer. We love seeing vMixers there and talking to new people about how to improve their live video production. We hope that in years to come people won't just settle when it comes to live streaming! Live streaming quality can be just as good as any other broadcast medium, especially if you use vMix! A big thanks to everyone that helped us out or stopped by the booth in 2017. We'll see you next year.