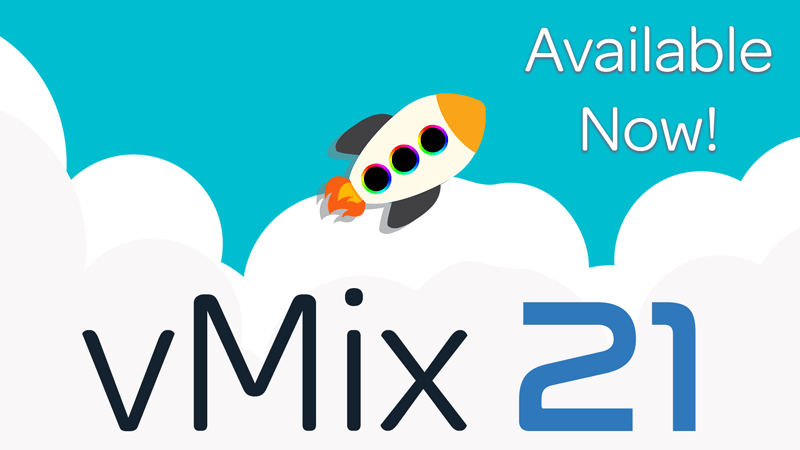 vMix 21 has launched!
Today sees the release of the latest version of vMix- vMix 21! The award winning production software has been upgraded to add even more professional features for your live video production.
Check out the information below to find out more information or watch our vMix 21 video!
Picture perfect
vMix 21 includes professional 3-way colour correction with lift, gamma and gain control which makes adjusting and matching your cameras easy and convenient. The in-built vectorscope and waveform monitors will allow vMix users to create the best picture possible for their inputs or their program output. By setting cameras to the best picture settings, vMix users will see a consistent image profile across the entire production and provide the best viewing experience for their audience. All done in real time and GPU accelerated, this kind of colour correction is something that has never been seen before in live video production software!

Customise your MultiView
Now you're able to customise your vMix MultiView output by selecting what displays in each box. You can choose to display based on the input number or you can choose a specific order number. For example you could choose to show your first 4 cameras, regardless of where they are in your vMix interface.

Independent streaming control
A much requested feature has been the ability to stop and start streams independently, and now this is available in vMix 21! You can create up to 3 streams with different streaming qualities, resolutions and aspect ratios.  Start and stop any of the three streams via the streaming settings in vMix.

This means you can choose to stream certain parts of your content to specific platforms which is great for funneling viewers to your desired location. This feature can also be used to do short "shout out streams" to encourage viewers to head over to your main stream.
Hip to be square or going vertical?
Some streaming platforms allow for square or vertical streams and now you can stream with these aspect ratios with vMix 21. In the streaming settings you can set your aspect ratio to 1:1 or 9:16 and you can view your streaming area with the new safe areas. Keep in mind that every platform handles these aspect ratios differently and may not be viewed the same from app to app or website. Don't forget the 3 rules of streaming…Test, Test and Test some more!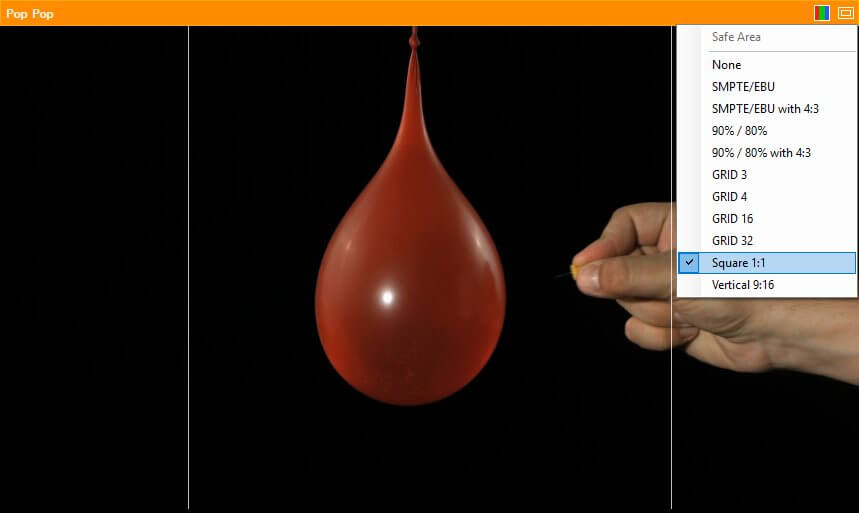 Key and fill
Ever wanted to have Key/Fill for your Blackmagic Design products? Well want no more! If the device supports Key/Fill then a new Alpha Channel dropdown will be available in the External Output settings, allowing you to easily send your graphics out! You can easily use vMix graphics for titling, vMix Social and more, directly into products that support key and fill such as the ATEM.
Count it down
vMix 21 has added a trigger to the countdown clock that allows you to perform a function with the timer finishes. This is great for timed segments in your show or for live sporting event that's linked to a game clock.
Update says no
To combat rogue Windows updates from bringing your live productions to a screeching halt, vMix 21 now has an option to turn off Windows Updates when vMix is running.
Want to upgrade or try?
Just head to vMix.com to download vMix 21. If you're new to vMix, you can sign up for a free 60-day unwatermarked trial when you install.
If you want to upgrade to vMix 21 you can see if you're eligible by going here and entering your key!
And now for the full list of vMix 21 updates!
Colour Correction
Professional colour correction on every input
Lift/Gamma/Gain/Hue/Saturation controls with industry standard colour wheels and bars
Import/export colour correction presets to use in other productions
Monitoring Tools
New Waveform and Vectorscope monitors in Preview and Input settings windows
Select the RGB icon to select from the various display options
Choose from Waveform RGB, Waveform Y, Parade RGB, Vectorscope and split (side by side) layout options
Streaming
Independent streaming control support for all three destinations
Select a different audio bus for each stream to facilitate multilingual productions
New Square (1:1) and Vertical (9:16) streaming options will automatically crop the sides of the video to fit
To assist with these new aspect ratios, additional Safe Area presets are available
Added recommended streaming quality presets for Facebook
Display
New Display Engine for Windows 10, improves performance (reduces render time) and smoothness on Fullscreen outputs
Also improves compatibility with NVIDIA Optimus laptops running the latest Windows Updates and no longer requires the "Optimus Compatibility Mode"
Outputs
MultiView Output now supports custom input layouts in addition to the default 1-8
Can also be used to assign monitors based on input type, for example to show the first 4 cameras in the first row regardless of location in the inputs
Added support for SSL (RTMPS) streaming. This can be used with Facebook on networks that block or filter port 80 traffic
Key/Fill output support for compatible Blackmagic devices
If device supports Key/Fill a new Alpha Channel dropdown will appear in settings -> External Output
NDI
Configure a custom Audio Channel (bus) on each NDI output
Configure Alpha Channel mode on NDI outputs (Premultiplied and Straight)
Configure downscaling on NDI outputs (such as HD to SD)
NewBlue NDI integration now supports 10 command layers, up from 5
Shortcuts
SetVolumeFade
SetOutput2,3,4
ColourCorrectionAuto
ColourCorrectionRset
SetCCX shortcuts to adjust Lift/Gamma/Gain/Hue/Saturation with MIDI support
Start/StopStreaming functions support an optional value to select the stream index (0-2)
InputPreviewShowHide: Show and hide the large input preview window
ReplaySelectedEventSingleCameraOn
ReplaySelectedEventCameraOn
ReplaySelectedEventCameraOff
ReplayLastEventSingleCameraOn
ReplayLastEventCameraOn
ReplayLastEventCameraOff
ReplaySetSelectedEventTextCamera
ReplaySetLastEventTextCamera
Triggers
New OnCountdownCompleted trigger for titles
Devices
Support for AJA Io 4K Plus and new Kona HDMI models
X-Keys T-Bar/Jog/Shuttle controller support added
PTZ Optics ZCAM zoom control supported in PTZ controls
Other
Windows Update is disabled automatically while vMix is running
ASUS Sonic Suite 2 will be disabled if it is installed on the system as it can substantially reduce performance
New Performance Alerts – If CPU or GPU exceed a certain threshold, an alert will appear in the status bar at the bottom of vMix
New Activators support in TCP API
Improved German translation
Fixed focus/zoom issues with Sony VISCA over IP provider
New repeat checkbox in vMix Social. When unchecked vMix Social will only display new posts once.
Dragging and dropping content into vMix will now be added to the recent items to make them easy to find in the future
Improved JSON support in Data Sources
All dropdown input lists now include input number first to make it easy to find inputs in large productions
Inputs.Find in Scripting API now supports numbers in addition to input names
Fixed a couple of memory leak issues, including with titles after extended periods of time