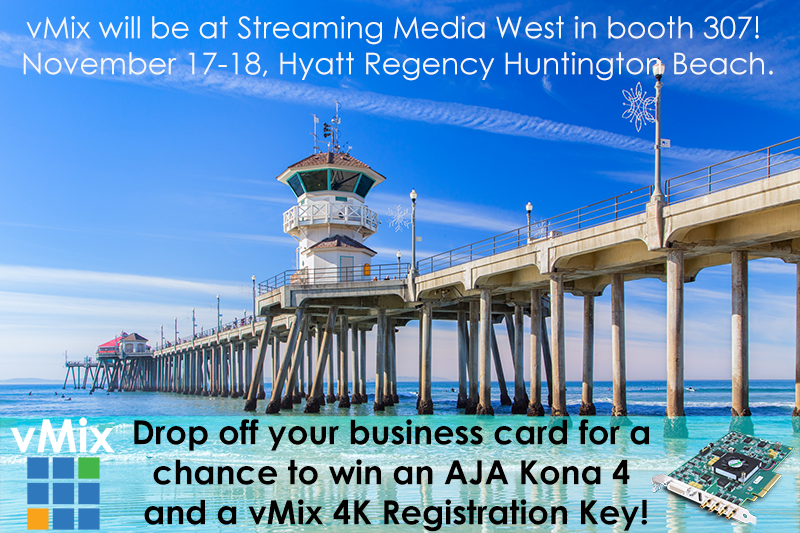 More exciting?!
How is that even possible?
I'm sure you're wondering that for yourself right now. Well, not only will vMix be at Streaming Media West (as a GOLD sponsor) showing off vMix 16 in all its glory but we will be having a giveaway! It's no ordinary giveaway either. Typically we give away vMix Registration Keys at trade shows and we think that's pretty cool. However, we've taken things up a notch this year and will be giving away HARDWARE!
The kind folks at AJA Video Systems have provided us with an AJA Kona 4 capture card to give away! These are awesome 4xSDI input cards that will be able to handle pretty much anything you could possibly throw at them including 4K! All you need to do is swing by the vMix booth (307) and drop off your business card to be in with a chance to win. We'll then draw a card at the end of the show and send it to you! It's a pretty good deal! Oh and you also receive a vMix 4K Registration Key so that you can hook your new AJA Kona 4 up to you live production!
Streaming Media West is on Nov 17-18, 2015 at the Hyatt Regency, Huntington Beach, CALIFORNIA! It's free to register for the Exhibition and if you use the VIPVMI priority code then you receive a discount for the different passes. Using this code also gives you FREE access to the Discovery Pass which includes the Discovery Track sessions, receptions, and keynotes! Click here to register.
See you there! In the mean time, you can bask in the glory of the Kona 4!