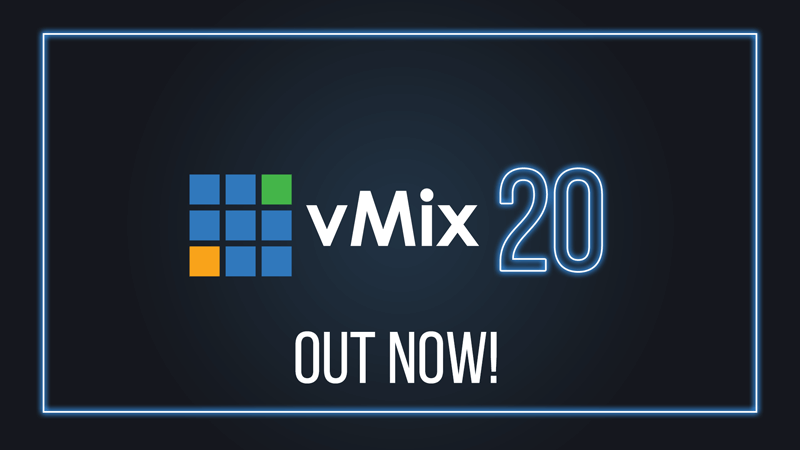 vMix 20 is here!
Yes, that's right! A new version of vMix is now available for download via vMix.com. It hasn't even been 6 months since the last major release of vMix which included live HD video calling built directly into the software through vMix Call! vMix Call has even been enhanced in vMix 20 by adding a low latency mode for those with very fast connections.
As with most of our 'even number' vMix releases, vMix 20 is more focused on adding increased functionality to the existing feature base.  It has been dubbed vMix 2X as some of the features in vMix have indeed been doubled. This is also the most powerful vMix yet with even more enhancements to it's industry leading GPU processing. To try out vMix for 60 days with no watermarking, just go to our website and download it. Already have vMix and wondering if you can upgrade for free, visit out Update Page.
Double your recording power
We've had vMix users ask for the ability to create a clean and dirty record. Well with vMix 20 you'll be able to do that easily! In the recording settings of vMix 4K and above, a new section allows you to set up another recording for your live video production. You can choose to create a second record of your output using different quality and codec settings or you can set up one of your additional outputs to create a brand new record. This could include a clean feed without overlays so you could edit it later on. You could also assign one of your outputs to record any of your production inputs which opens up endless possibilities.
More virtual outputs
vMix 20 creates more ways to output your content via NDI. With vMix 4k and PRO, you'll be able to route 2 more independent virtual outputs. These can be used to access your output, multiview, or any input in your production. Send these outputs wherever you like via NDI! Create a multiview for a producer on the local network. Stream a separate feed and audio via NDI on another computer! There is a new setting called Outputs/NDI that will allow users to set up their outputs in any configuration they choose.

Keeping an eye on your production time!
Making sure that your production runs smoothly is very important and with the additional of 2 production clocks, vMix allows you to keep an eye on the time! You can set up your clocks to show the time of day, streaming/recording times and most importantly how long your show has been running for. Sometimes it's very easy to get off track when doing a live show, so the countdown timer allows you to set a time-frame for your show and keep you on track! It will show a progress bar of how long you have left and will get red when you go over your time. The clocks can also be set up as an input, so you can see them in your multiview or even use NDI and an external output to send it to someone else on your network.
Even more features are coming soon….
vMix 20 will have even more features added soon. As there are quite a few that we're packing into vMix 20, we're going to be slowly releasing them. We have some in testing right now!
Here's a full list of vMix 20 features-
Outputs
Two additional independent outputs for vMix Call, Replay and NDI (Pro and 4K editions only)
Second recorder with an independent recording format that can be assigned to one of the 4 outputs. (Pro and 4K editions only)
Production Clocks
New Dual Production Clock can now be enabled from Settings -> Options
Each of the clocks can display either the current time, recording duration, streaming duration or a countdown to an event
Clock display can also be added as an input which can be assigned to the MultiView Output
Clock input can also be enabled as an NDI source on the network, providing a mobile clock that can be displayed anywhere using the free NDI tools!
vMix Call
Audio and Video sources sent to guests can now be changed independently at any time from the right click menu
All vMix editions including Basic HD can now connect to a remote vMix Call running HD or higher
New Low Latency option added. This can be used on reliable, high bandwidth point to point connections where the lowest possible delay is required
Audio
New Channel Matrix option available for every input that supports audio
Provides a 8×16 channel audio router to every input that can be assigned to any of the audio output buses in any combination
Live audio meters added to each channel in the Input Channel Mixer
Streaming
Improved streaming settings layout
Each of the 3 destinations now supports independent bitrate and resolution settings
Hardware Encoder can also be controlled independently on each stream to assist with systems where GeForce cards only support 2 encoders at a time
PTZ
Added new Visca Over IP support to connect to newer Sony SRG seris camers in addition to the new IP model from Lumens
Titles
Added support for controlling NewBlue Titler Live 3.0 via NDI
Supports commands such as AnimateIn, AnimateOut which can be accessed from the Input right click menu or assigned to controllers using the new shortcut function NDICommand
Supports live editing of Titler Live templates from within the vMix Title Editor and Web Controller, with the ability to assign data sources as well
vMix now includes the vMix Title Pack for free! This includes 36 additional templates including scoreboards and lower thirds.
Other
Added support for X-keys XK-68 Jog/Shuttle controller
Improved CPU usage when streaming, particularly with 4K
Improved performance with 4K Magewell capture cards
New TCP API for embedded devices. See Developer Information in the help for more information.
Head to vMix.com to download vMix 20 today!