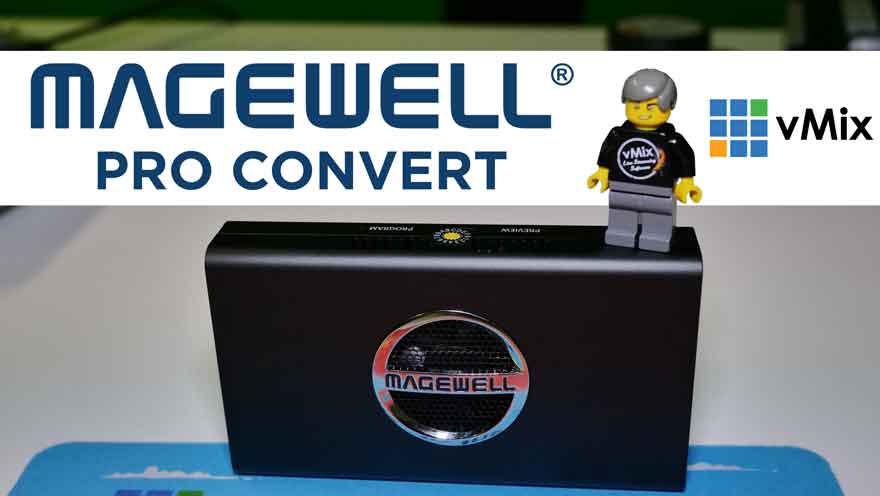 If you have a somewhat unhealthy obsession with NDI® like we do here at vMix, then you'll be happy to hear about a new product from Magewell. If you're into live production and live streaming, chances are you've heard of Magewell and probably have 1 or 10 of their USB dongles or perhaps one of their vMix Supported Capture Cards. They have now branched into making NDI converter products that will allow you to take your uncompressed video from your device via HDMI/SDI and turn it into a NDI source on the network.
Magewell Pro Convert HDMI 4K Plus

We were able to test out the Pro Convert HDMI 4K Plus here at vMix HQ and it fit seamlessly into the vMix workflow. It was really easy to set up and add to our video productions. This model supports up to 4K 60p which future proofs you for quite some time! The beauty of it is that you can use the device to downscale which means that although you may have a 4K60p camera source you can convert it to a 1080p signal to save on bandwidth and resources. If you're never going to need 4K, I would say that they will be looking to create a HD model too!

It has some additional features that are handy such as the HDMI pass-through which is helpful for monitoring and recording. You can use the NDI source in vMix but also be ISO recording the camera feed on an external recorder. It allows you to mount the device to your camera via a standard 1/4″ 20 mount. There is also a serial port for NDI PTZ control and some small tally lights.
You can power the device via POE or USB! Typically NDI devices are powered via AC or POE but the Magewell Pro Convert HDMI 4K Plus gives you the ability to use USB. The great thing is that you don't need Ethernet if you're connecting directly to your PC. Your PC will treat the device like a network adapter and assume the video coming in via USB is NDI!
How to use the Pro Convert with vMix

We decided to use the Pro Convert in our November 2018 vMix Fun Time Live Show. All we needed to do was plug it in and then go to Add Input>NDI add it as an NDI source in vMix! You can set the device to just follow the same video settings as the input, so as the cameras were outputting 1080 29.97p, that was what the Pro Convert sent through to vMix. That's it! I wish it was more difficult, so I could pad out this section, but it's not. If you want to change any settings, you can right click the input to open up the settings webpage for the Pro Convert.
vMix, NDI and Magewell
vMix has been a big supporter of IP Video via NDI from the get-go, in fact we had full NDI implementation since day 1! New devices such as the Magewell Pro Convert are opening up the possibilities of a Full-NDI based production which is pretty exciting. If you're wondering what all the fuss is about, feel free to download the 60-day unwatermarked vMix trial here and try out NDI for yourself. For more information about NDI you can check out the NewTek website or the vMix website.
For more information about the Magewell Pro Convert family, click the link