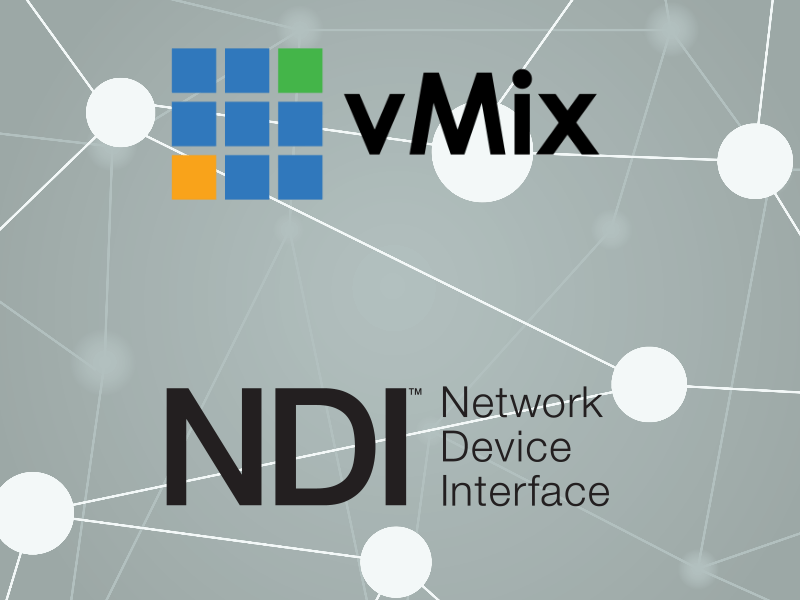 Would you believe it's been 1 year already since Newtek released NDI!? vMix first introduced NDI support in the vMix 17 Preview in March 2016! Since then we have seen NDI grow into a really useful and well-supported tool in live production. As we countdown to NDI Day on March 21, we thought we would take a look at the vMix implementation of NDI.

vMix gives you the most fully-featured implementation of NDI available to live production software. Not only are you able to receive sources, you're able to send all kinds of NDI goodness from within vMix!
Output– Use vMix to send your full production to another vMix production or NDI compatible encoder or software. This is great for recording and streaming on other computers and sharing your production.
External 2– Send a specific vMix input to another NDI device!
Cameras– That's right, send individual cameras to be used in other productions, by other devices or for monitoring.
Calls– vMix allows you to receive calls and then send them to other devices or productions via NDI!
Audio Inputs– Audio Inputs can be sent for monitoring or use elsewhere.
Audio Outputs– Output your Audio Output via NDI. Outputs galore!
Newtek have enhanced NDI by continually adding new free tools including the Newtek NDI for Creative Cloud Plugin and ISOcorder. The NDI Video Monitor is another great tool that allows you to view any NDI source on the network. That means vMix users are able to monitor their output or cameras on other devices easily.
Being able to send and receive video, graphics and audio has really enabled vMix users to create amazing productions. The addition of 3rd party graphics generators, titlers and scoreboards easily spice up any live video production. All the big names are involved including Adobe, Caspar CG, NewBlue FX, Chyron, Pro Presenter, Character Works and many more. Now vMix users have direct access to all these amazing products over the local network!
The NDI App has put live professional live production into the palm of everyone's hand, literally. People have been looking for a reliable way to bring in mobile phone and tablet cameras and now they have one!
We're still waiting for an SDI/HDMI to NDI converter, but we hope to see one very soon. An NDI camera is also on the vMix wishlist! It would be great to just plug a camera into the local network and be able to use it in any live video production!
The future looks bright for NDI and we can't wait to see what will happen in the next 12 months!