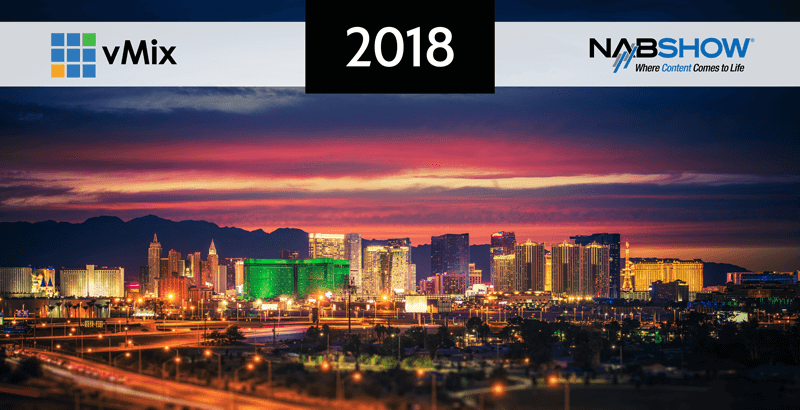 Get prepared for NAB Show!
It's just ticked over into 2018 which means that it's less than 3 months until NAB Show 2018 (April 9-13). Yes, that means it's time for us to start preparing for our time in Las Vegas. For us that means we need to practice standing on our feet for 10 hours a day, walking 10 miles, and shaking 1,000 hands! We have our mega-long flights booked, our hotels sorted, car rentals done and have started fasting in order to prepare for Las Vegas buffets.
If you have planned to go to NAB, start booking now! Although Vegas is a huge place, NAB bring A LOT of people to town and it tends to get expensive.

Why go to NAB Show 2018?
NAB show in Las Vegas is the biggest broadcast tradeshow in the world with over 102,000 attendees! It's the place to be if you're into movie making, live production, editing, post-production, audio, VR/AR, streaming, cameras, tripods, lenses, etc etc. There is a lot to see at NAB, so if you're sick of watching YouTube recaps of NAB Show every year…come and see it first hand!
Sure, it may be a little overwhelming at first and the larger booths can be a little standoffish but there is plenty of people to meet and products to try. Part of the fun of NAB Show is that because there are 1900+ exhibitors, there is a lot of stuff to be seen! Everyone has heard of the big brands, but NAB opens up a level playing field for everyone. If you've got a booth at NAB, then everyone there has access to you and your product. The smaller companies will most likely have REAL staff members of the company working there. They have a working knowledge of the product/service and might even be the creator of it! The first vMix booth was a tiny little hotdog stand, so you never know what company or product you might discover walking the backs of the halls.
vMix Tips for Maximising Your NAB Experience!
Now there are a lot of lists like this, and I'm sure it's all been said before, but maybe you've never been to NAB and want to know!
1. Wear comfortable shoes!

Las Vegas Convention Centre is a LARGE place. Most convention centres are the size of 1 of the halls there…and there are 4 halls at the LVCC! Not to mention the hallways, meeting rooms, nooks and crannies all over the place! You're on your feet most of the day, so having comfortable shoes is the only way to travel. Another tip is to search for those booths with the double cushioned carpet! Oh boy, it's like walking on a cloud. I have added extra to the carpet budget this year because I need that cloud cushioning! Don't worry about fashion at NAB and just wear comfortable shoes. Sure, you're probably going to end up in the background of a YouTubers NAB video or a PTZ Optics live stream, but they shouldn't be able to see your shoes!