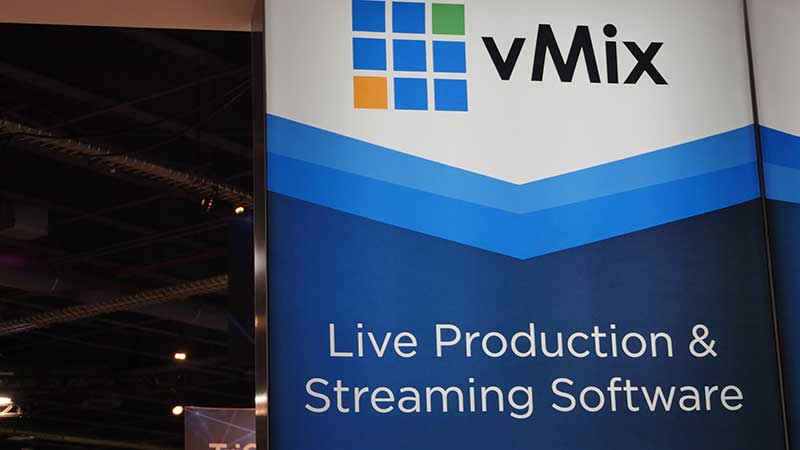 NAB 2018
vMix will be back again to NAB for its 6th year! You can find us in the South Lower Hall- SL 4620. Just take a right at EVS and you'll see us! What are we excited to see at NAB this year? Well I think we are hoping for more NDI hardware options, especially with cameras. We haven't officially heard anything but it would be great if there were more products to choose from. I'm sure there will be a lot more exciting stuff announced the closer we get to the show.
NAB is a great place to see all of the new equipment and get some hands-on experience with it. There will be a few live shows scattered around the trade show floor too, so take a look and maybe get some pointers. Doing a live show at one of the busiest trade shows in the world is no easy feat!

vMix will have a tonne of compatible companies at NAB this year, so we'd thought we'd let everyone know where they were so you could chat. We really need to work out some kind of deal where if you mention vMix you get a massive discount on your next purchase or at least a free stubby cooler. Speaking of free stuff, be sure to drop by and collect an official NAB 2018 limited edition vMix mousepad!
vMix Partners and Friends!
Capture cards!
Black Magic Design (SL 216)- You can't miss the biggest booth at NAB! Check out all of their latest cards, cameras and converters.
AJA (SL 2505)- Head over to AJA and ask some questions of the knowledgeable folk there. You'll be able to see their full range of professional PCIe capture cards, USB3 and the new Io4k Plus.
Magewell (SU6324) – Magewell will have new 4K cards PCIe cards at NAB for the first time. alongside the rest of their USB and PCIe range.
Yuan High-Tech (SL15717) – Yuan produce more varieties of cards than anyone else out there! Check our their full range of their new cards and USB capture.
Bluefish444 (SL10021) – Check out the award winning Aussie capture cards at Bluefish!
NDI Compatible Gear
Newtek (SL 5016) – Newtek is literally a few steps from the vMix booth again this year. You'll be able to check out the new NDI|HX Connect Spark and PTZ1 camera!
NDI Central (SL5516)- This booth will be filled with companies offering all of the latest and greatest NDI products. You might just find a solution to a problem or a cool new toy you can use with NDI!
BirdDog (C11746 ) – The long awaited BirdDog Studio is finally shipping! Do you have a million questions and want to see it in use? Head over to their booth and have a chat with Dan and Eamon…they're top Aussie blokes.
PTZ Optics (C9945) – If you want to chat PTZ, then this is the place for you. NDI cameras will be the talk of the town and if you'd like to see them in action and ask ALL of the questions head to their booth. If you're lucky enough, you could even end up on one of their live shows!
Controllers
PI Engineering (SL7406) – Are you looking for a way to control vMix? Well they have ALL of the options for you! 124 keys with a T-bar? 80 keys? 60 Keys? 24 keys? A giant red button? A foot pedal? Check, check and check! They often have a mini Lego news set which is always a highlight of NAB. Plus they have plenty of mousepads, pens, notepads and free hugs that they're giving away.
JL Cooper (SL2919) – Makers of the popular Instant Replay controller that's compatible with vMix! They've moved from the North Hall, so it's much shorter walk if you'd like to chat with them.
Streaming Providers
StreamShark (SU14008CM) – Another great Australian company providing top notch streaming services.

Wowza (SU11010) – Wowza have you covered if you're looking to do anything with live streaming! Need to know more about streaming infrastructure or looking to set up your own streaming server, this is the place to ask questions!
IBM (SL5305) – Learn more about IBM Cloud Video at the IBM stand. They always have cool stuff to check out especially their Watson demos.
Giveaways
We should have some exciting giveaways each day at the booth if you're floating around the place. Each day at 1 we'll be giving something away, so be sure to have a business card on hand.  We'll also have a competition for those that aren't able to attend NAB, so keep an eye out for that.
Working Demos
As usual, we'll have a lot of working demonstrations where you can try out all of the features in vMix. You can sample different controllers, check out cameras, optimal settings, 4K production, instant replay and much more! Drop on by anytime and one of the vMix staff will be able to help you out.