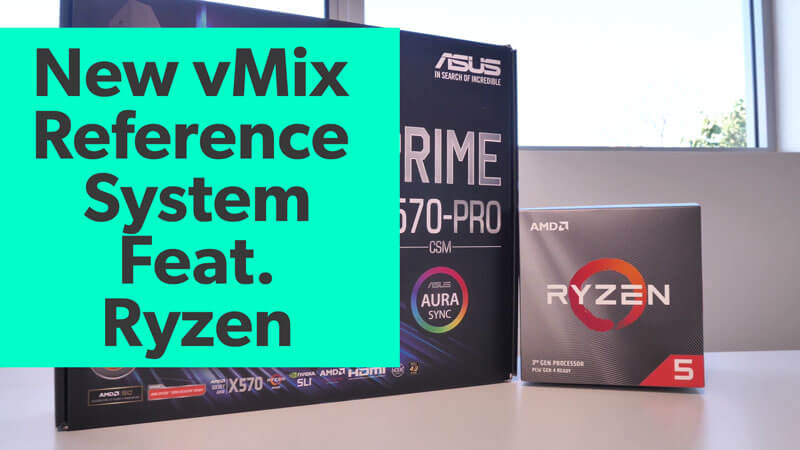 The recently released second series of Ryzen CPUs have seen dramatic increases in performance, which is great news for vMix users. Over the years we have had many people ask about Ryzen based systems and we're happy to now recommend a new Reference System featuring a Ryzen CPU.
The Opal Reference System features an AMD Ryzen 5 3600X with Wraith Spire. This system will be capable of doing a 4 camera production, with recording and streaming!
We're open to testing new CPUs and GPUs as they hit the market, so we always updating our Reference Systems. If you're looking to build a new PC for vMix, always check out the latest information on our Reference Systems page.
You can see Martin talking a little bit about the new vMix Reference System in the August 2019 vMix Fun Time Live Show-
Here are the full specs of the Reference System-
MoBo
Asus PRIME X570 Pro
Graphics
Card
NVIDIA GeForce GTX 1660
Case
Corsair Case (Corsair Carbide Series 100R Mid Tower Case in photo)
HDD
Samsung 850 EVO 500G SSD
PSU
500W ATX PSU
Capture
Card
Magewell Pro Capture Quad HDMI or Magewell Pro Capture Quad SDI or Blackmagic Decklink Duo 2 SDI
CPU
AMD Ryzen 5 3600X with Wraith Spire (6 Core / 12 Threads 3.8Ghz)
RAM
16GB (2x8GB) DDR4
Operating System
Windows 10