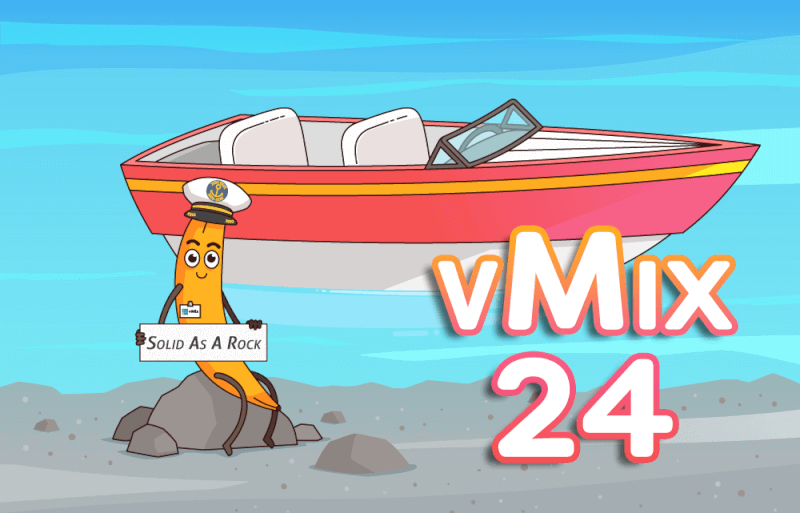 Do you remember 2020? Yeah neither do we! We're excited to finally release vMix 24 and give you something new to play with. Better yet, if you've purchase vMix since January 1 2018 it's a free update! What are some of the new features….
Instant Replay
vMix has always pushed the boundaries for what is possible in Instant Replay in a software switcher. In vMix 24 we've decided to take things up a notch or two! With vMix Pro you'll now be able to use 8 channels of Instant Replay utilising the vMix AVI codec for high quality recordings. That doubles your capabilities! In addition to this, vMix Replay will also support 4K and high frame rates, but keep in mind that these will take sufficient computing power to use! There have also been some productivity enhancements including-
Two output playback channels that can be controlled independently or in sync and have any camera angle assigned to each.
Twenty (20) Events lists are available that can each include an unlimited number of Mark In and Mark Out points that can be added on the fly and changed at any time.
Dedicated Replay MultiView output with two playback channels alongside eight live camera previews which can be optionally enabled.
Stingers
Alongside the new replay channels you can now add up to 4 stingers in vMix. You can use the in-built GT Title Stinger templates or create your own!
Red Alert!
Sick of going to air and not having anyone hear/see you? New alerts will notify you if your volume drops below a certain level or if you have FTB enabled. Have anything else you'd like to be alerted about? Let us know!
The latest version of NDI®
vMix 24 will have NDI 4.6, with all the amazing capabilities that come along with it! This will mark almost 5 years of NDI support in vMix. Yes, 5 years!
Forgot your glasses?
Use the new search functionality in the vMix interface to find any inputs you need quickly!

You can also now search vMix Shortcuts to easily narrow down your function.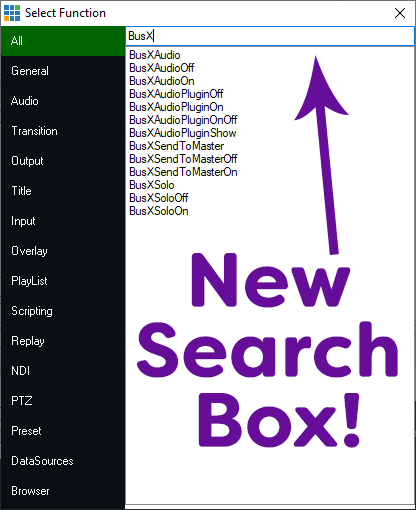 Everything is FEIM
In an industry first, vMix has added a Faulty Encoder Input Mode for NDI® sources. This will allow users to isolate NDI encoder inputs and prevent impact from device crashes. This mode will increase CPU and memory usage, so it will not allow as many NDI inputs but here's hoping you don't have to use it!
And finally the latest browser
vMix 24 has v86 of the Chrome browser available as an input.
Try vMix for freeeeee!
For a Free 60-Day Trial of vMix Pro, just head to the download page on vMix.com. You just need to download, install and enter your email address where it says Register for a fully functional 60 day trial.
vMix 24 will be a free update for those that have purchased after January 1st 2018 or if you've purchased a 12 month upgrade…in the last 12 months.
If you're outside of this window and would like to update, you can do so via our Upgrades Page.
For more information about vMix, just head to vMix.com!
Oh and if you like the Social Medias, we're all over the place.
Facebook
Instagram
YouTube
Twitter
Full list of new vMix 24 Features-
Instant Replay Revamp
NOTE: as a result of these substantial changes, some existing replay workflows have changed. Click here to read more about this in the documentation.
Eight channel continuous recording of up to eight camera inputs including 4 channel audio
High frame rate support for camera inputs and replay, up to 240fps where supported by both camera and capture card
New Replay Recording format. Uses vMix AVI 4:2:2 files with resolution support up to 4K.
A and B output channels can be controlled independently or in sync and have any camera angle assigned to each
Twenty (20) Event lists are available that can each include an unlimited number of Mark In and Mark Out points
Event lists can now have custom names applied
Export events to separate video files on the fly in either MP4 or vMix AVI format
Dedicated Replay MultiView output with two playback channels shown alongside eight live camera previews. Previews of the camera angles during event playback can also be optionally enabled.
Support for two replay controllers simultaneously (JLCooper and ShuttlePro v2) to control each channel independently
Many new replay shortcut functions added including ability to switch audio source in real time and delete/duplicate events
More Stingers and GT Stingers
Two new Stinger channels added
GT title templates can be used with stingers automatically. Use the TransitionIn and TransitionOut animations in GT Designer to define the cut point.
A number of GT stinger title templates have been included which will work in all editions of vMix
Input Layers
Input MultiView renamed to Layers to make it eaiser to use
Existing shortcut functions remain, but new Layer shortcuts also added. Both are different names for the same functionality
Basic borders can be added to each input layer. These borders are the same design and format as existing Overlay borders
YouTube Stream Now
vMix 24 implements functionality similar to the Stream Now feature discontinued on the YouTube web site
Fill in the desired stream details and a new stream will be created matching those details each time the stream is started
Can also select previously created events via the YouTube Studio web site
NDI 4.6.2
The latest NDI release is included in vMix 24
Everything is FEIM
New "Faulty Encoder Isolation Mode" for NDI separates each input into its own background application, so if an encoder causes a crash it will not impact vMix.
This is an optionally enabled mode as it does increase CPU and memory usage and should only be enabled for problematic inputs.
Can be enabled fo all inputs in Settings -> Performance, or enabled for each input through the FEIM checkbox in Add Input -> NDI
Alerts
New alert manager in Settings enables a large flashing red warning on screen when there is low audio or FTB enabled. This warning only shows to the operator and will not be visible to the audience of the recording or stream.
Other
Over 300 new title templates, including titles, social and stingers
New "Search" category added, allowing the display of certain inputs by a search term
Web Browser input updated to Chromium V86
New SRT indicator at top right of vMix main window. Red when connected, amber when no-connection or error
SRT library updated to 1.4.2
SRT options in External menu now show hostname/port to help identify outputs.
Dynamic Inputs and Dynamic Values supported. Whatever is set with these functions can be recalled by typing in "DynamicValue1-4" as the Value field, or selecting the Dynamic options in the Input dropdown
Dynamic activators to see which inputs are selected in 1 of 4 dynamic input channels.
Audio channel matrix presets
Tally Lights now follow main input when using virtual PTZ presets
Added right click menu to vMix Calls under Advanced to show blank frame when call disconnects
Added OnCallDisconnected/Connected triggers
vMix Call status information is now available in the API
Data source pausing support with shortcut functions
Support for focus control on most PTZ Optics camera models (excluding ZCam) when latest firmware installed
Audio buses can now have custom names applied
Added checkbox in Settings -> Audio to "Hide Audio Mixers based on selected Category"
Audio mixers now include input number in title
Shortcuts window now has search option to help find a shortcut since there is now so many!
Added SQ and LQ recording options to vMix AVI. These are lower quality, but lower file size recording options
Data Sources and SRT outputs will no longer load automatically on startup. They will now only load on opening of a preset. This functionality can be changed back to the previous behavior in Settings -> Outputs
Fixes
Improved compatibility with VST3 plugins that expect certain behavior when removing plugins
Fixed Mix Input showing incorrect premultiplied alpha by default
Fixed issue where streaming output could be set to a higher frame rate than the master frame rate leading to low bitrates and keyframe warnings on some streaming providers
Production Clock did not support fractions in hour offset, this has now been corrected