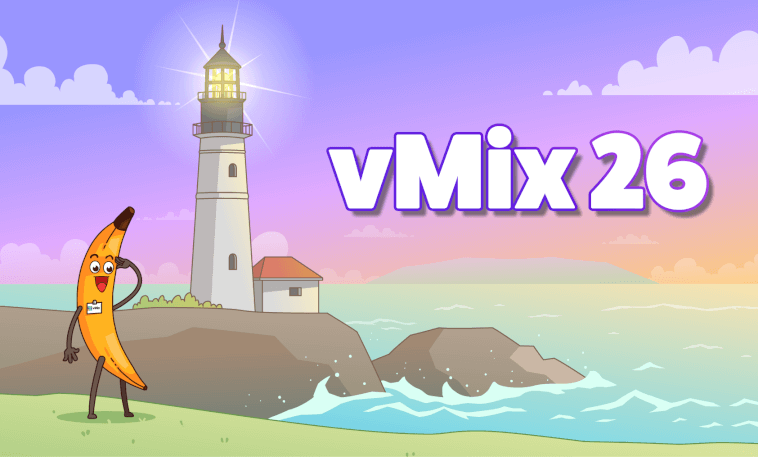 vMix 26 is here and ready for download! You can download it now via vMix.com. If you've got vMix Max, you're able to update to the latest update right now! For those that have purchased vMix from January 2021 then it will be a free update. Prior to this date, it's a $60 fee for 12 months of updates. Totally up to you if want to experience the new features that vMix 26 has to offer! What are they you might ask??
Input Effects
Do you often think about blur effects or LUTs? vMix 26 now allows you to add these effects to your input! You can add a Gaussian blur effect to all or some of the input. LUT support for PNG and CUBE files.
Vertical Production Tools
Apparently vertical video isn't going anywhere! You can now create professional vertical streams and recordings with vMix! There is a new vertical HD preset (1920p), vertical GT templates, vertical recording options and auto detection of pre-recorded MP4 vertical videos from smart phones.
You'll be able to create HD widescreen AND HD vertical content from the same preset and stream to different destinations accordingly!
SRT Updates For Audio and Replay
vMix now supports the ability to receive multiple tracks of audio which will be combined automatically and made available to the input's channel matrix and mixer. On the output side, support has been added to split the single multi-channel track into multiple stereo audio tracks.
SRT support has been added to Instant Replay. CBR support has also been added to SRT.
15 Mix Inputs!?
vMix 4K, Pro and Max users will now have the ability to use 15 Mix Inputs in their production!!! That's a whole lotta submixes and crazy stuff you can do!!
NDI® 5.5
vMix 26 now includes built-in support for the latest NDI 5.5.
Web Browser Update
Chromium Version 103 has been added compatibility with new web sites and HTML overlays.
Try vMix for freeeeee!
For a Free 60-Day Trial of vMix Pro, just head to the download page on vMix.com. You just need to download, install and enter your email address where it says Register for a fully functional 60 day trial.
vMix 26 will be a free update for those that have purchased after January 1st 2021 or if you've purchased a 12 month upgrade…in the last 12 months.
If you're outside of this window and would like to update, you can do so via our Upgrades Page.
For more information about vMix, just head to vMix.com!
Oh and if you like the Social Medias, we're all over the place.
Facebook
Instagram
YouTube
Twitter
Here's a full list of all the updates for vMix 26…take a look, you might find something you like!
Input Effects
New Gaussian Blur effect for all inputs. Add multiple blur effects each with its own cropping and strength.
Requires a recent fast graphics card for the best results.
New LUT effect for all inputs.
Supports PNG (OBS style) and CUBE files (Davinci Resolve etc). Create your own colour grading files and use them in vMix!
Stream Delay
New Stream Delay option in Quality settings for streams. See help file for more information.
New Vertical Production Tools
Vertical HD Preset (1920p)
Vertical GT Templates
90 Degree rotate button in Position tab, will zoom to fit new rotated source.
Automatic detection of rotation in MP4 files recorded using smart phones.
NDI 5.5
vMix 26 now includes built-in support for the latest NDI 5.5
Note many new NDI features are in the free NDI Tools. Check out NDI.tv for more information.
15 Mix inputs total in 4K, Pro and Max
Supports Output Only mode in Mix Inputs, which hides the preview and preview/output controls for a more compact input.
SRT Replay, Multi-Track Audio and CBR support
SRT inputs can now be used as Instant Replay sources. This requires turning off Use Hardware Decoder when adding the SRT input, as Instant Replay uses the CPU.
vMix now supports the ability to receive multiple tracks of audio which will be combined automatically and made available to the input's channel matrix and mixer.
On the output side, support has been added to split the single multi-channel track into multiple stereo audio tracks.
SRT outputs now support CBR mode
Web Browser Input Updated
Chromium Version 103 for compatibility with new web sites
Other
PTZ support for Insta 360 Link with MF (Media Foundation) driver for better performance.
Note that audio needs to be added as a separate input, as it is detected as a separate Microphone in Windows.
Bluefish444 Key+Fill support on selected cards
Bluefish444 multi-channel audio output on selected cards
New Audio Matrix presets to allow easy selection of stereo pairs to Master
Added support for 1440p
GT Line Spacing added
GT Images now have a TopRight align option
Intel Graphics ARC and 12th Gen now supported
New Replay shortcuts: ReplayMarkInOutLiveFuture, ReplaySetChannelAToBTimecode, ReplaySetChannelBToATimecode, ReplaySetTimecode
New Facebook Stream Key destination for manual streams
All old XAML title templates have been moved to the Legacy tab
Input names now appear in Input Settings – Position dropdown
Added new Preview input. This in combination with the Output input provides the ability to build custom Output MultiView layouts.
Transition buttons will now highlight red during transitions
Copy/Paste buttons added to Input Position tab
X-Keys T-Bar Module Red/Blue LED support