vMix has teamed up with the folks at Restream for an exciting offer! The Stream Everywhere bundle includes a vMix HD ($350) Registration Key and 1 year's worth of Restream PRO ($490) for just $600(US)! This bundle allows you to create professional content and then distribute it to wherever your heart desires!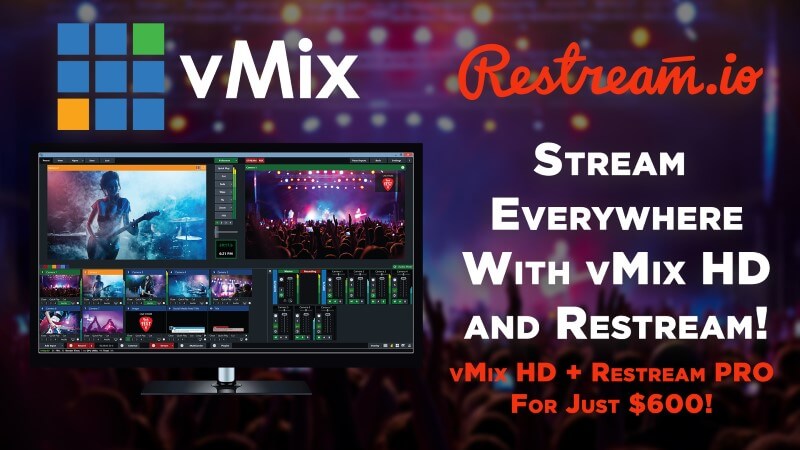 Restream allows you to send your live stream out to over 30 platforms and with built in access in vMix to use Restream it's super simple to use! It's just a matter of logging into your Restream account in the vMix Streaming Settings and away you go! You can be sending out your stream to over 30 destinations in just a couple of clicks. Streaming to multiple locations can often be technically difficult with a lack of bandwidth or computing limitations, but by using Restream you just need to send 1 stream to them and they'll distribute it for you!
With this bundle you'll be receiving huge discounts on vMix HD AND Restream, so if you've been waiting, here's your big chance! This is a limited time offer and will expire August 24th 2018.
vMix HD allows content creators to produce, record and stream in HD and provides industry leading reliability, performance and features. This is a perpetual Registration Key, so you'll be able to use vMix forever! For more information about vMix head to vMix.com.
To see how to use vMix with Restream, here's a short educational film-