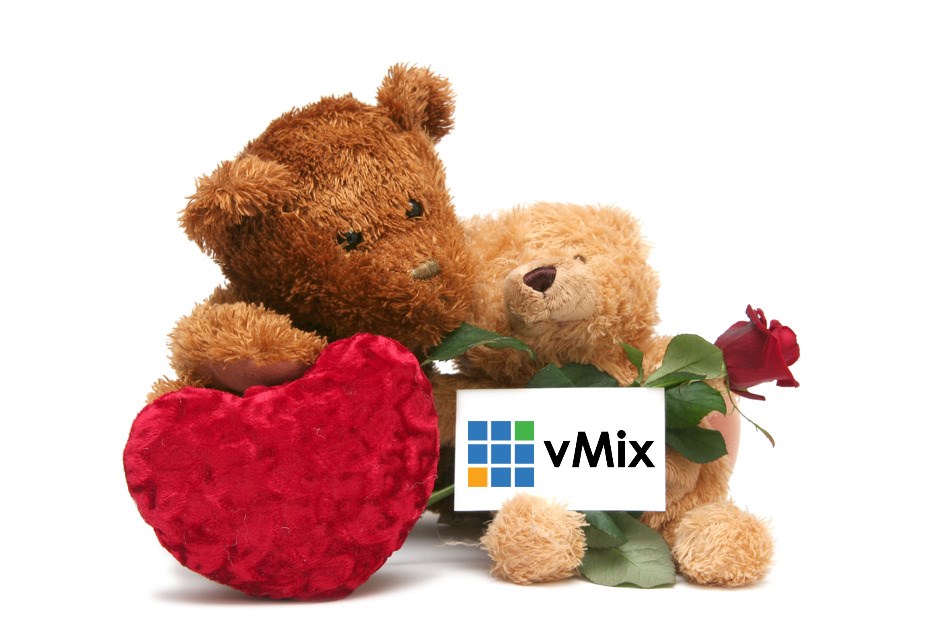 vMix Valentines is here again!
For reasons that shall remain unknown, vMix is a big proponent of Valentines Day. I guess the main (but not only) reason would be that we'd like to see more love in the world. Each year we take it upon ourselves to spread the love by giving away a copy of vMix through vMix Valentines. This year we will be giving away a copy of vMix HD. That's right, a free vMix HD Registration key to one lucky twitter follower. To enter this giveaway, you just need to make a tweet-
I love @vMixHD because…..(and then fill in your reason). #vMixValentines.
Here's an Example-
I love @vMixHD because I can make super radical live videos with it. #vMixValentines
Don't tweet at us, add it to your timeline so everyone can see how much you love vMix. Oh and use #vMixValentines so we can keep them all together. Without this, we won't be able to enter you. And don't just copy the tweet from above, use your own reason. Only one tweet per account will be counted, but if there is more than 1 thing you love, don't hold back. It is after all the season of love. Remember to use YOUR Twitter account not 15 different shell accounts you have in the name of your dog, company, mum, pet rock, Chia pet etc.
vMix and Free Stuff!
We often give things away on Twitter and through our videos. You may be aware of a little something called…vMix GOLD. The vMix GOLD giveaway will be conducted on the February show which is on the 15th at 8pm Eastern US. So not only is there a vMix Valentines giveaway on Twitter, vMix GOLD will be given away this week too! We really are in a giving mood here at vMix this month so make the most of it. If you like free stuff and finding out more about vMix and live video production then follow us on vMix on Twitter and watch our live shows! Our shows go for about 45-60 minutes and we have a large portion of it dedicated to questions and answers.