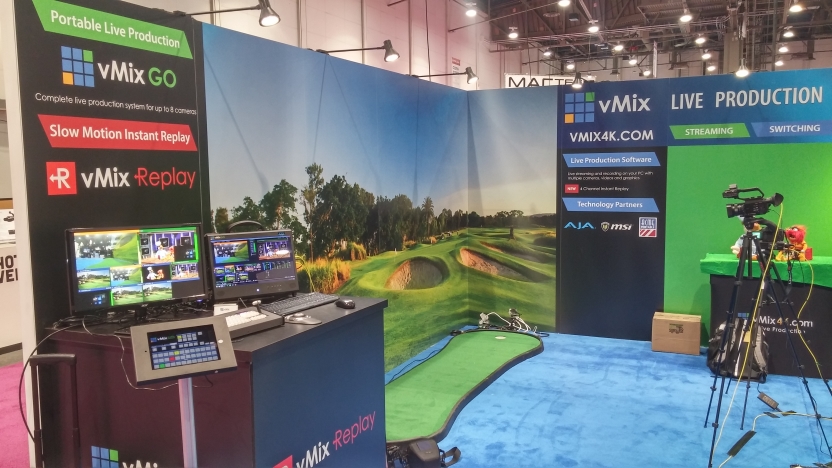 Wow! What an NAB for vMix! We had twice the staff of last year and we were still extremely busy!
This is the third year for vMix at the NAB Show, but it was my first. This wasn't my first time to a major trade show, but I've learned that nothing really compares to the NAB show! After hopping off my 18 hour journey from Australia I went to pick up my credentials for the show and check out our booth set up.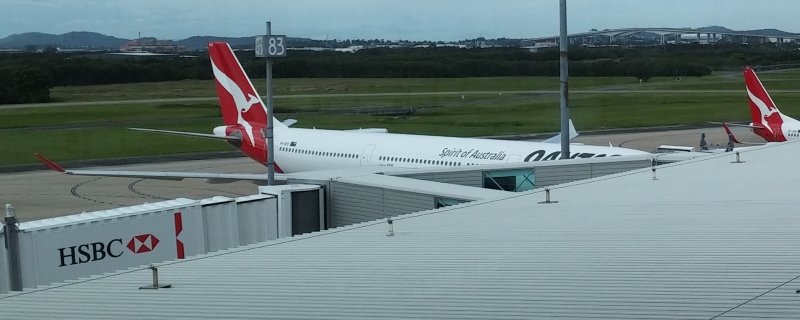 It may have been the lack of sleep, jet lag or sudden influx of caffeine, but I was instantly awed by the sheer size of Las Vegas Convention centre! I instantly regretted not buying a Fitbit and tracking my every centimetre. I have no doubt that it would have amassed well over 50km for the week! The booth was beginning to take shape on Saturday and by Sunday afternoon we were ready and raring to go.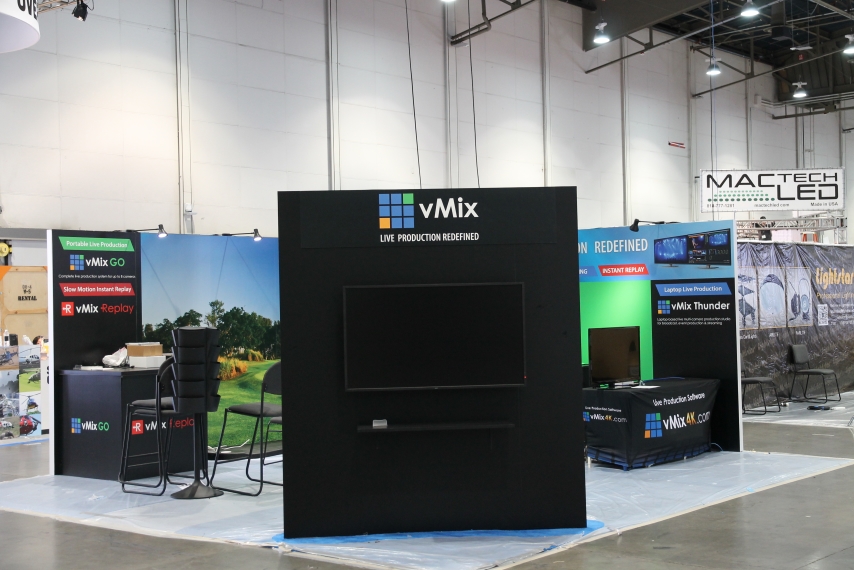 Before the show even started Martin was able to spend some time on the GeekBeat NABShow Live show. It was a great way to prepare for all those vMix questions and spread the word for the beginning of the show!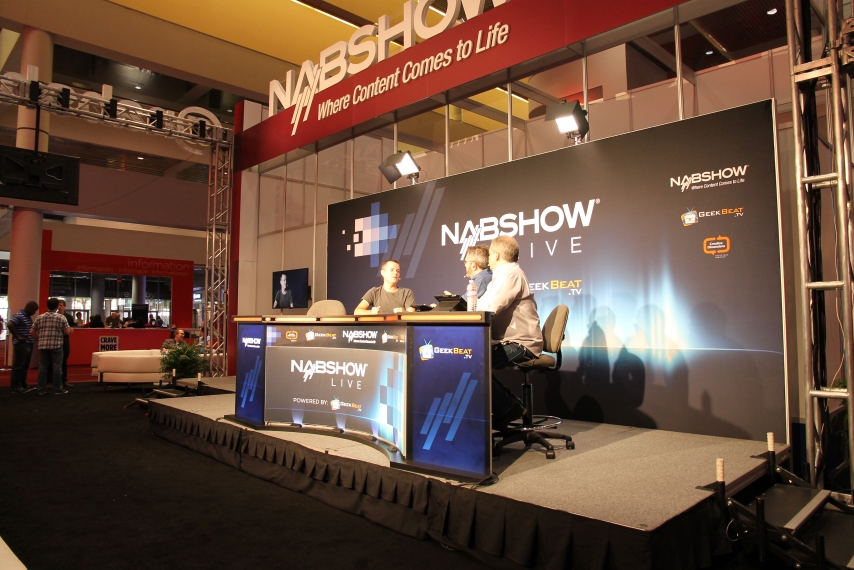 Monday morning came by quite quickly and I boarded the monorail to experience my first day at NAB Show. It's one thing to see NAB Show with nobody around but it's definitely another sight when it is full of people. Over 100,000 people visited NAB Show! On the way through to the central hall I had to salute the big vMix banner that was out front!Unfortunately ATOMOS had a slightly bigger sign!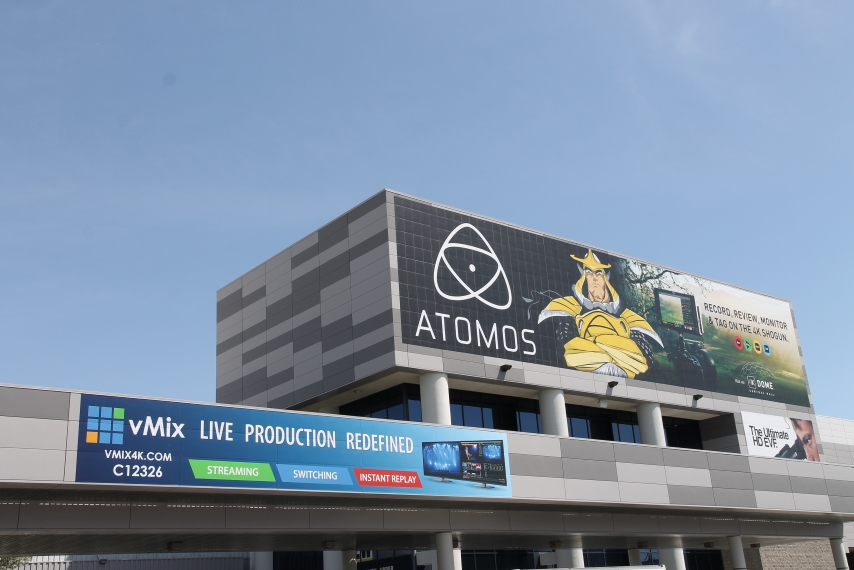 This year vMix was fortunate enough to be able to be apart of the AJA Developer Program. The vMix GO is being powered by an AJA capture card so we were on deck to show people in their booth how we were utilising it. We were also able to display the vMix Thunder which uses the AJA iO4K card attached an awesome laptop that MSI provided us. It was a great way to introduce people to vMix and also to speak to AJA distributors looking for mobile video production solutions. I spoke to a wide range of people looking for very different uses of the vMix GO- Live Sports, Church Services, real time Chroma Keying for SFX on movie sets. It was great to be able to show off the vMix GO in the South Lower Hall alongside AJA.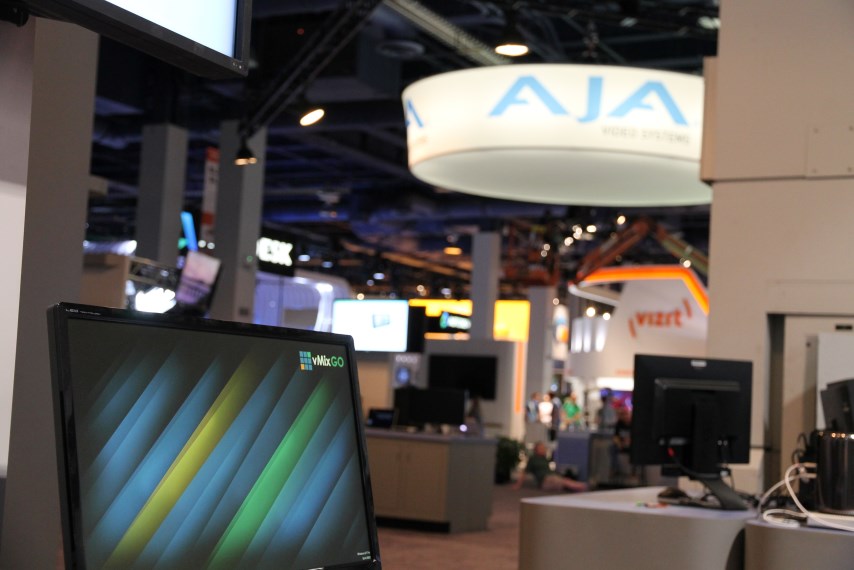 vMix was also involved heavily with Teradek again this year. In fact the vMix GO was used to power the Teradek Live Show for the 4 days! It was a great show and really showed that you can do a large, well-produced, multi-camera live shows for 4 days straight without any problems at all! Here is Martin's interview during the week.
The actual vMix booth was a little more 'Hands On' this year as we really wanted to demonstrate how the brand new vMix Replay worked. I was put in charge of sourcing a putting green for this year's booth. I made sure that it was top quality so that people couldn't blame it on the green if they missed! I would say that the success rate was probably about 30%! We set up a Sony camera facing the person putting and then a GoPro hooked up right next to the hole. The Instant Replay system recorded both angles and then we were able to display the replay in slow motion on the 50Inch TV behind them. Also, we had free vMix golf balls! Titleist PRO v1 no less!
It was a very busy week for all of us at vMix! It was great to meet many existing customers, industry friends and hardware partners. There was a great of interest for the vMix GO, which was very encouraging! We're looking forward to an even bigger and better NAB for vMix in 2016!