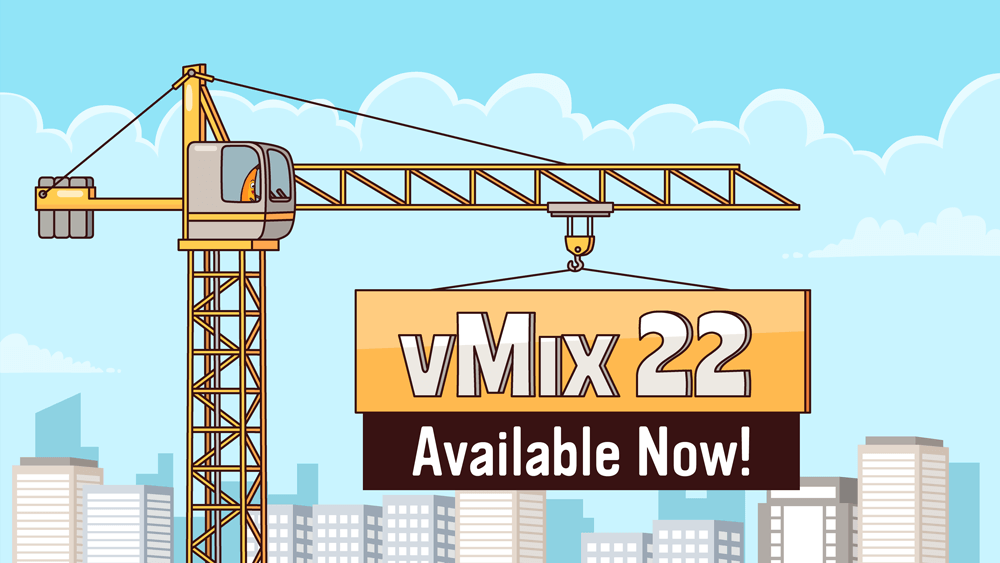 On this Valentine's Day 2019 we're happy to say that we're giving the gift of vMix 22! That's right, vMix 22 is now available to download today. We've been hard at work creating even more professional features for your live broadcasts! For all of the information, check our brief overview video or continue reading….

Purely powerful graphics
Over the years we've had many many people ask us to include more animated graphics for vMix and we've responded by adding a new graphics engine and title designer named GT. The biggest problem with real-time high performance animated graphics is the extra load on your CPU that it takes for processing, but with vMix 22 we've built GT from the ground up to be GPU based meaning NO ADDITIONAL LOAD FOR YOUR CPU! You're able to run GT graphics and titles on the same computer without worrying if your CPU is going to explode!

Constructing the perfect graphics and titles
Along with the new GT graphics engine, vMix 22 will also have a newly designed Title Designer. The new designer will make creating static and animated titles a breeze! You'll no longer need a 4 year university degree just to create your own animated titles.

Record ALL of the angles and inputs!
vMix 22 has an updated MultiCorder which allows users to record even more isolated inputs. This now includes the 4 independent outputs and vMix Calls!

vMix Video Codec
To help take advantage of the new MultiCorder features a new high performance recording format has been added to vMix called the vMix Video Codec. It's suitable for post production editing in Adobe Premiere and Magix Vegas Pro on Windows. It has similar quality to ProRes but with very low CPU usage.

Turn that input into a PTZ camera!
The new Virtual PTZ option in vMix will give your inputs pan, tilt and zoom capabilities. This is great for creating multiple shots from a single camera. Impress your friends with a multi-cam production…by only using 1 camera! Newly added support for USB joysticks also allows you control the inputs affordably!
Pause live inputs!
Live Pause is a new feature in vMix 22 that can freeze live inputs such as cameras, NDI sources and Desktop Capture. You can make adjustments to your inputs in real time and no one will ever know!
Let us do the work.
In vMix 22 are over 100 animated titles ready to use in vMix. Every edition of vMix has access to use the animated templates, so just enter your content and away you go!
How to update?
The vMix 22 update is free for everyone who purchased vMix after January 1st 2018 and can be downloaded from our website. For those who have purchased prior, it's just a $60 upgrade fee which will give you 12 months worth of free updates of vMix. You can also update to vMix 22 by upgrading your edition of vMix. For example, if you update from vMix Basic HD to HD, you'll receive 12 months of free vMix updates. To see if you're eligible for an update click on this link here. If you'd like to upgrade click here.
Want to give vMix a try?
We have a free, unwatermarked 60-day trial available on the vMix website here. Just download vMix and when it's been installed just enter your email address on the registration screen.
And now for the full list of vMix 22 updates………..
GT – Easy to use, high-performance, animated graphics
Over 100+ animated title, scoreboard, ticker and social templates to choose from in HD and 4K.

Four way ticker support: create custom tickers with top, bottom, left or right scroll directions.

GT Designer Standard allows creating custom static titles and animated tickers in all vMix editions

GT Designer Advanced allows creating custom animated titles along with the ability to import from Adobe Photoshop PSD files.

Spell check support added to built in vMix Title Editor.

New Clock dropdown box in Title Editor provides built in presets to add common clock formats to a title.
MultiCorder (4K and Pro editions)
Added support for recording Video Call sources in addition to Output1-4.

Individual MultiCorder settings can be saved in each preset.
vMix Video Codec
High quality, fault tolerant, low CPU codec suitable for post production editing on Windows.

ProRes-like codec with support for Adobe Premiere, Magix Vegas Pro and most other Windows video editing programs.

Supported in both the Recorder and MultiCorder.
Virtual PTZ (4K and Pro editions)
Turns any input into a Virtual PZ camera with high quality, customisable digital zoom.
Live Pause
Live Pause (Freeze Frame) Camera, NDI and Desktop Capture inputs by clicking the pause icon under the input.
Outputs
New MultiView Output layout options.

Set the title bar either above or below the MultiView Output video previews.

Customise Preview/Output headings between fixed text and input names.
NDI
Updated NDI support to latest 3.8 SDK

Included vMix NDI Config tool allows toggling between UDP and TCP transmission to allow optimising performance based on network requirements.
Shortcuts
SnapshotInput

SetTickerSpeed

TitleBeginAnimation

LivePlayPause
Controllers
Stream Deck and Stream Deck mini support. Add the vMix plugin from the Stream Deck App store. Set buttons to live thumbnail previews via shortcuts, or colours via activators.

Joystick Z axis support

Joystick pressure sensitive support. Allows variable speed pan/title/zoom on supports PTZ cameras including the new Virtual PTZ.

X-keys HD15 GPIO support added.
Devices
Other
New GPU memory % indicator in status bar. This refers to special memory shared between the CPU and GPU and can be used to identify potential performance problems when using a large number of inputs.

Vimeo streaming provider now supports selecting a previous setup event to stream to.

SlideShow Properties window (for Photos and PowerPoint inputs) can now be resized. Rearranged image orders is now saved in the vMix preset.

New Copy From button in Input Settings can be used to copy Triggers, MultiView and Colour Correction between inputs.

New cog buttons on Preview and Output to open up associated Input Settings.

Added ability to solo Bus A or Bus B through Headphones output. Click the [S] button in the Bus mixer to toggle on/off.

Added support for resizable VST3 plugins.