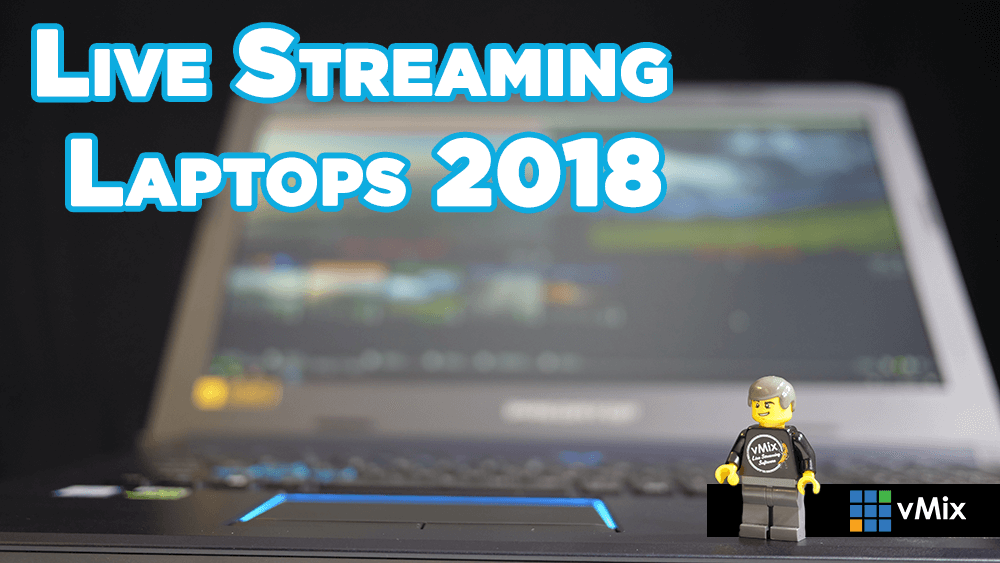 Laptops for Live Streaming in 2018
In 2018 we have people using vMix on all kinds of different computer setups. From NUCs, laptops, and budget PCs all the way to suped up i9s and Xeons, we've seen it all. In order to give some guidelines for the best computer setups to use, we've created a Reference Systems guide on our website. For 2018 we've updated our Sapphire (laptop) system to include some new 8th Generation Intel i7 CPUs.  We have specific models that we've tested, but quite often laptops are in short supply so they may not be available. We've also included a list of recommended specifications if you're looking for a new laptop in 2018.
Recommended laptop specs for live streaming in 2018.
Here is a list of recommended specs if you were looking to produce, stream and record with your laptop-
Intel i7-8750H
NVIDIA GeFORCE GTX 1060 or higher
Thunderbolt 3
G-SYNC Display
SSD
These requirements will provide you with the best experience for using vMix. The i7 and dedicated graphics card will allow you to produce multi-cam productions with ease. Thunderbolt 3 connectivity will give you the option to use high-speed data transfer via a Thunderbolt 3 enclosure or AJA iO4k+.
Specific laptop models.
We've purchased a couple of laptops and have run them through their paces.
Option 1- Asus Republic of Gamers Zephyrus M

This laptop is a fairly lightweight and portable machine, weighing at just 2.45kg. It has a 15.3 inch monitor, which means it has a fairly small form factor for a video production laptop. It would be easy to travel with and not take up much space in your production. Any additional space that the laptop chassis has left over is used for cooling, which is great for performance but it means there isn't room for some additional ports. Unfortunately the Zephyrus M does not come with an RJ45 port, so you're unable to connect up an Ethernet cable for wired Internet or NDI sources. This can be quickly overcome by purchasing a USB3 to Ethernet converter for $20, however this will take up one of your USB3 ports. Another negative about the form factor is that it only has 1 output for your display. The machine has 1 HDMI output so if you needed a second screen you'd need to utilise your Thunderbolt enclosures Display Port or Thunderbolt 3 output for an additional display.

The display is a Full HD IPS G-SYNC display so you're able to use the dedicated graphics for all of your display processing. You can turn this on by visiting the ROG Gaming Center dashboard and making sure that you're using the Discreet graphics card instead of Optimus. If you're looking for a smaller laptop then this is a good option, but just keep in mind the lack of RJ45 port and 2nd display option. As more 8th Gen laptops hit the market, more smaller laptops will be available so if these are a must have, then it might be easier to wait.
Option 2- Acer Predator Helios 500

The Helios 500 series has a few different versions including an i9 option, but we're looking at the i7 version. I mean, if the i9 is within your budget and you want a little bit more power, then that may be a good option for you! This machine matches all of the recommended specs that we have listed above but it comes in a larger form factor than the Zephyrus. It has a 17.3 inch IPS G-SYNC display and weighs 4kg (8.82lb), so it's much more bulky than the Zephyrus. The Helios 500 comes with a dedicated GTX 1070 GPU as standard, which will provide you with great performance in vMix.

Due to the larger size, the unit has a lot of ports at your disposal along with plenty of ventilation. It has an RJ45 port, 2 Thunderbolt 3 ports and has 2 display outputs (1x HDMI, 1x Display Port). You won't need any additional adapters with this computer and it should be good to go right out of the box. The Helios 500 will also use the GPU for your display processing, so you won't need to worry about Optimus! You may need to spend slightly more time at the gym before purchasing the Helios 500 as it's quite bulky and heavy. Alternatively you could use the laptop as a weight and just give up your gym membership!
Sapphire Options
So these are the 2 options that we've tested with vMix- the Asus Zephyrus M and the Acer Helios 500. Both of these will allow you to produce, record and stream a 4 camera production. The Asus gives you the option of a better GPU if you were looking for more headroom. The Helios 500 also offers an i9 version, if you were looking to beef up your CPU.

As mentioned, there will be more laptops on the market that fit the above criteria for good live streaming laptops with vMix. Things to consider will be price, weight, display ports, connection ports, size, and brand. Some users may want a super light laptop and only need a single display output like the Zephyrus has, whereas others may want a larger display, RJ45 port, and 2 display outputs like the much heavier and larger Helios 500. As more 8th gen laptops hit the market there will be more and more flavours of laptop that should be able to hit everyone's production requirements.

Older Generation Laptops
Previous generation laptops are becoming more scarce but the 7th Gen Intel i7 laptops will still get the job done. I'm typing up this blog article sitting next to a 7th Gen ASUS ROG laptop and it's still a good option for live streaming. They have a good CPU, dedicated GPU, G-SYNC and Thunderbolt 3. If you can find one with the following specs, you might be able to save some money.
Intel i7-7700HQ
NVIDIA GeFORCE GTX 1060 or higher
Thunderbolt 3
G-SYNC Display
SSD
Don't need all the bells and whistles?
The laptops we recommend have all the necessary features to produce, record and stream a multi-cam production with a Thunderbolt capture device. Perhaps your production doesn't require some of the things we recommend…maybe you don't need Thunderbolt, maybe you aren't doing such a large production. If you are looking for another option, definitely look for a laptop with a high powered CPU, dedicated GPU, SSD and G-SYNC.  These features will give you the best performance in vMix.
Already have a laptop?
Feel free to download the vMix 60-day Free Trial and see how it goes with your laptop! If you have any questions about vMix or portable productions with laptops, please send us through an email.