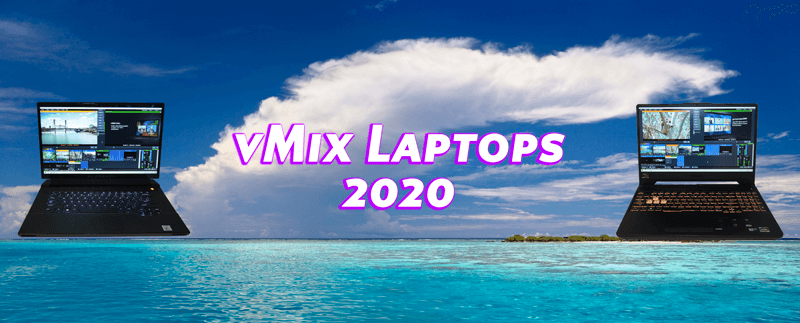 It's a minute or two since our last laptop update, so we thought we should get onto it and buy some new ones. Portable production has become even more popular over the last few years and has really come to the forefront during The Covid Pandemic. With a laptop you're able to stream from home, the office or any production site that you need to go to. It's makes them a really flexible option as they can also be used for editing, Netflix and gaming. We usually recommend a laptop over a NUC as they're usually more affordable, far more powerful and offer a screen. There are plenty of great gaming laptops that are $999USD, which is a great price for powerful machine!
In the past we've recommended laptops that offer Thunderbolt 3 and G-Sync as a part of their feature set. This year hasn't changed that, but we've also added a more affordable option that doesn't offer Thunderbolt 3 or G-Sync which would be more suited to USB3 and NDI inputs.
Recommended specs for a live streaming laptop in 2020-
Intel i7-10750H
NVIDIA GeFORCE GTX 1660ti or higher
Thunderbolt 3
G-SYNC Display
At least 16gb RAM
SSD
These requirements will provide you with the best experience for using vMix. The i7 and dedicated graphics card will allow you to produce multi-cam productions with ease. Thunderbolt 3 connectivity will give you the option to use high-speed data transfer via a Thunderbolt 3 enclosure or AJA iO4k+. G-Sync allows for the best performance with vMix and your displays.
If you're not looking for Thunderbolt capture, there are plenty of non-Thunderbolt i7 laptops around the $999-$1299 range that will work great with vMix.
Looking for more power?